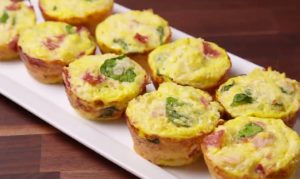 Ingredients
2 cups riced cauliflower
6 oz. diced ham (cooked bacon, cooked sausage or veggie meat substitute)
1 c. baby spinach
1/3-1/2 c. finely chopped onion
6 Eggs, beaten
1/2 tsp. garlic powder or  1-2 tsp fresh garlic
1 c. shredded Cheddar (or your choice)
Himalayan salt (or regular)
Pinch cayenne pepper (or a few squirts of Sriracha sauce)
Freshly ground black pepper
Directions
Preheat oven to 375 degrees F.
Grate  or use food processor  to prepare cauliflower. (Or use frozen riced cauliflower: thaw and squeeze dry; place cauliflower in paper towels or cheesecloth and wring out any excess water when using the frozen variety).
Add eggs,  garlic powder , salt pepper and whisk until combined. Fold in cheddar cheese, ham, spinach and onion. Grease a muffin tin with cooking spray, then fill each one about two-thirds full. Bake for about 20 minutes, or until lightly golden.  Serve with Salsa.
Options: Add finely chopped cilantro or basil
Makes about 18 small muffins … You could opt to pour this into a glass dish and bake.
Refrigerate left-overs … they are great the next day for a quick snack!